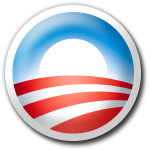 There's good timing, there's bad timing, and then there's
annoying
timing. The first two are well understood. The last might best be explained by this situation.
The family and I were in Virginia Beach to visit my mom, brother, and niece. It had to be a quick trip, driving down on Saturday morning at leaving at dinnertime on Sunday because we had to be back Monday morning. All well and good. Until I found out that Barack Obama was speaking at the nearby convention center at 7:30 p.m. on Sunday. We should be almost back to Northern Virginia by that time, but it's Obama, like three miles from my mom's house. And it's Obama.
See, that's
annoying timing
. Two hours earlier, and we'd certainly go. Two hours later, we couldn't possibly go. If we left after the speech, we'd get home after midnight. If we left without going to the speech, I'd beat myself up about it. The kids would have to go, they might get tired, the wait would be long, the center might be crowded, we'd have to drive late at night, the kids had school the next day, Bill had work. What to do?
We went.
We didn't know what to expect, given that Virginia Beach is not Democrat land. We figured that it might not be all that crowded and decided to get there about 6:30 instead of 5:30 when the doors opened. I wouldn't call that choice a
mistake
exactly, but I will say by the time we got there the huge convention center parking lot was filled. No matter — we parked in a nearby lot. We approached the venue from the side and then saw the line. No worries — that's to be expected. But as we walked and walked and walked to get to the end of a line that had to be about a half-mile long, we began to wonder how crazy it was to do this. Even though we thought that we wouldn't be able to get in, we decided to wait until the official speech start at 7:30 p.m. to see how it was going.
As it turns out, the line started moving quickly right before our determined decision time, so we stayed the course and made it inside. The process was disorganized, the crowd was huge, the kids got tired, Barack started late, and we had to leave early. But
we were there
. Just us and about 18,000 other supporters. Holy cow.
The funniest thing: Our third grader is in charge of the class stuffed animal, Tracker, and we told her how cool it would be to write in Tracker's journal that he saw Barack Obama speak. We had to throw the dog in the air a couple of times so he could see over the crowd, but it convinced her to go. Hey, you do what you gotta do.
Wish you could have been there too? Here's the
video
.