I'm waiting for the Oscar nominations to come in. They're being announced as I type, and should hopefully be available on the
Oscars site
by the time I'm done with my post. Actually, it's purely by chance that I'm on the computer during the announcements. I wasn't waiting for them, especially since I haven't seen any of the films that are being mentioned as possible winners.
But it is an interesting coincidence, because I was planning to talk about the Academy Awards today. Specifically, how the movie studios tend to release their best Oscar contenders at the end of the year so they'll be fresh on people's minds. I don't think the same thing happens with children's books. For books it would seems like a better approach to have an earlier print date to allow buzz to build up. Of course, that's not always what happens. Take the case of last year's Newbery winner,
The Higher Power of Lucky
, which was released at the end of 2006. While the
Scrotum Kerfuffle
got attention, the other early disappointment surrounding the winner was that
nobody had heard of the book
. If some title is going to come out of nowhere and take the prize, than there's no fun in playing along in a year-long home game of "Guess the Newbery." (Now available in a collectible tin from Mattel!)
Today I return to my own favorite children's book prize, long dormant but never entirely forgotten. Better yet, we have the whole year to play along and submit our favorites. I've already found a strong contender here in the month of January, and I couldn't be more excited to reintroduce the...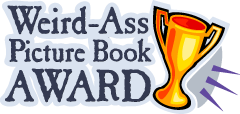 The WAPBAs are given to the books that make you go "Huhhh?" Awards are given for story, illustration, and cover art. The highest award goes to the picture book achieving outstanding weirdness in both illustration and text. The 2007 WAPBA went to
The Fuchsia Is Now
, by J. Otto Seibold, for its strange story and artwork. The interesting use of condoms as hats was clearly a deciding factor in this book's selection.
Dear Fish
, by Chris Gall, won for both illustration and cover art. For storyline,
My Father the Dog
, by Elizabeth Bluemle, took the prize. (Don't try to verify any of these awards, as I just made them up right now.)
But before we can start playing the "Guess the WAPBA" for 2009, we've got to award the prizes for 2008. So now it's time to nominate 2007 titles for the WAPBA awards of 2008, to be announced whenever I get around to it. Please nominate your favorite WAPBs for this prestigious prize.
NOTE: If you plan to mention WAPBA on your own blog — and I hope you do — be advised that the phrase "Weird-Ass" brings some interesting searches to your blog. Just a little warning.
(That Oscar website is taking some time to go up, so here is the
Associated Press article
, which also features some commentary. Like I guessed, I've seen none —
none
 — of the nominees. I've got to get out more.)