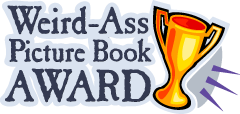 Wow. There's an excitement in the air in anticipation of the Weird-Ass Picture Books Awards for 2008. Well, I can feel it and I'm all a-tingle. No, hold it. That's my cell phone.
It's important to note that the designation of "weird-ass" is not necessarily a bad thing. Some books in their very strangeness reach new heights of art and storytelling. I'd like to think that this year's winners have given us something to think about — or at the very least, made us go, "Hmmmm." Here are the winners.
The WAPB Award for Cover Art goes to:
New Socks, by Bob Shea
In the words of Fuse#8, "This may well be the very first hipster picture book I've encountered, published in the last five years." In my words, "How funky is your chicken?"
The WAPB Award for Illustration goes to:
Bow Wow Bugs a Bug, by Mark Newgarden and Megan Montague Cash
This wordless book starts off pretty normal, with a dog tracking a bug. Things get stranger as two dogs with two bugs meet and greet as dogs usually do, to put it gently. Then it gets stranger and stranger and stranger. Lots of fun, but totally weird.
The WAPB Award for Story goes to:
Five Little Gefiltes, by Dave Horowitz
Taking the format of Five Little Ducks, Horowitz uses gefiltes instead to positively wacky effect, using lots of Yiddish colloquialisms. I'm not sure this book will play in Peoria, but it will have fans in Brooklyn. Oy vey!
And the 2008 Award for Best Weird-Ass Picture Book goes to:
Cowboy and Octopus, by Jon Scieszka, illustrated by Lane Smith
To address the intrinsic weirdness of this book, you need go no further than the title
Cowboy and Octopus
. This surreal pairing of friends leads to a truly strange book in story and illustrations, making it a masterpiece even in the world of WAPB. Bravo!
Congratulations to all our winners.
While
The Alphabet from A to Y With Bonus Letter Z!
written by Steve Martin and illustrated by Roz Chast, was nominated and considered, ultimately it was rejected by the committee (uh, me) as being an adult book in children's picture book clothing, and therefore ineligible for the award. Plus it sucked.
The Boy With Two Belly Buttons
, by Stephen Dubner, illustrated by Christoph Niemann, was also considered for storyline, but as it turns out the book is just bad, not weird. What luck, though, that it can be viewed in its entirety at Amazon. If I'd had to leave my computer to assess the book, I'd have been ticked off.
Thanks for being part of the 2008 WAPBAs. Start looking for contenders for next year. I've already seen two possible nominees and it's barely March, so it could be a stellar year for the strange. Let's say, for the wonderfully strange.