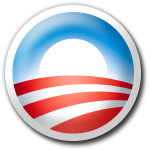 I was surprised that I didn't explode with happiness when it was announced that Barack Obama would be the next President of the United States. Or when Virginia went blue on the map — an amazing event. It couldn't sink in. But when President-Elect Obama spoke tonight... wow. It felt real. It felt great.
This is from my email tonight and it says more at this moment than I can.
Pam —

I'm about to head to Grant Park to talk to everyone gathered there, but I wanted to write to you first.

We just made history.

And I don't want you to forget how we did it.

You made history every single day during this campaign — every day you knocked on doors, made a donation, or talked to your family, friends, and neighbors about why you believe it's time for change.

I want to thank all of you who gave your time, talent, and passion to this campaign.

We have a lot of work to do to get our country back on track, and I'll be in touch soon about what comes next.

But I want to be very clear about one thing...

All of this happened because of you.

Thank you,

Barack
I've got to say, besides the beautiful message of history, dedication, and gratitude, I totally love that we're on a first-name basis.