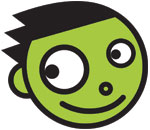 Always late. I'm always late on these things.
Jen Robinson
and
Susan Kusel
have both announced that we'll be working together on a
PBS
blog in January. They've expressed their delight and excitement at this new venture. They've helpfully petitioned the creative kidlitosphere for a name for the blog. And I can add... um...
Ditto?
That's what happens when you're late. Everyone's expressed all the good stuff. But truly, I am excited about blogging for PBS and about blogging alongside great people. I just have to look at
Jen's Expert Q&A article
and the numerous comments it commanded to get all tingly about the opportunity to reach parents through PBS's site. I'll be contributing one day a week, so I'll still be here doling out the book drivel as usual. And we
could
use a name — a matter that has been complicated by the large number of book blogs out there who took all the great names. (
Book Whisperer
, I'm looking at you.) Any ideas?