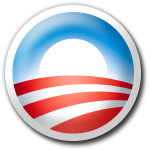 I just got back from an Obama event. What a rush. It was a town meeting held here in Northern Virginia, and I brought my two daughters. Unfortunately, I did
not
bring my camera, to my now crushing disappointment. I left it home because it doesn't take decent pictures when you are far away from the subject. However, when you are so close to the subject that you could toss a Nerf ball to him... well then the camera would have been handy.
Stupid, stupid, stupid, stupid, stupid.
Oh, and did I mention that my cell phone wasn't charged because it hasn't been working, so I didn't charge it? Of course, it would have done fine taking pictures of someone famous and perhaps presidential
three feet
away from me. You know, if the battery hadn't died.
Stupid, stupid, stupid, stupid, stupid.
But let's focus on the positive. We did get there early and did get nice seats behind and to the right of Obama. We saw him in profile most of the time, but because it was town-hall style he did face us sometimes. The
speech
was interesting — not soaring rhetoric, but more down-to-earth policy. He did have some nice elements of humor in both his scripted remarks and his responses to questions.
There was one question in particular of interest to us book lovers, and that came from a woman who asked what Obama would say to young writers. He was surprised by the question, which he admitted was one he hadn't heard before, but didn't hesitate to answer. He referenced his two books, and specifically mentioned how he wrote them himself, along with many of his speeches. With a light inflection, he said, "In terms of getting a job, knowing how to write is a
good
thing." He talked about how he kept a journal, and how it was important for teaching him not only how to write, but also how to think. But my favorite part was when he said, "Over the course of four years I made time to read all of the
Harry Potter
books out loud to my daughters. If I can do that and run for president, then you can find time to read to your kids. That's some of the most special time you have with your children."
If the entire remarks come online later, I'll copy that whole section rather than relying on my scribbled notes on a volunteer application form. (I did find
this video
about him reading the Rowling books.) But I was too excited about a potential president that really cares about reading and writing to wait. Also exciting personally — the yin to the yang of leaving the camera home — Obama walked right by us, and my younger daughter got to shake his hand!
Shake. His. Hand.
My older daughter debated waving the copy of
Harry Potter
that she had brought along to read during the wait, but since it was book five, we decided that its extraordinary size might cause it to be seen as a weapon by the Secret Service agents if she wielded it over her head.