Let's have a Barack'n day, shall we?
First, a photo I found on Flickr that shows me and the girls at the Obama speech. Follow the long blue light down and you'll see my fourth grader directly underneath. My seventh grader is to one side with a blue hat, and I'm on the other side. You can click on the picture for a closer look at where we're sitting, and go
here
for the original and more pictures. I guess I didn't need my camera after all.
In honor of my recent Obama encounter, I wanted to show a
Wordle
I made of his famous speech. But I couldn't find my original attempt, so I did it again, and it turned out better than the first one. Here is my
"Yes We Can" Wordle
: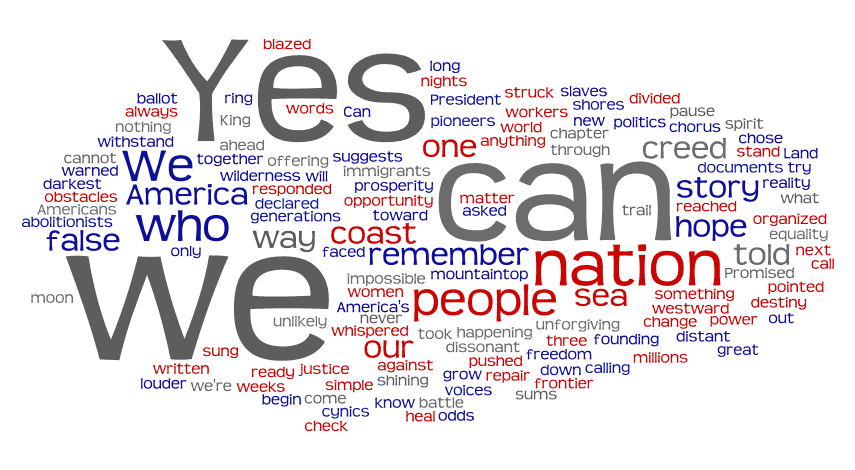 In addition, I pulled together some of the text of the New Hampshire speech. I cut some parts to give it more of a poetic feel, but truly this speech is pure poetry to me. And as he mentioned in yesterday's talk, he wrote it himself. I had planned to put this up for Independence Day, but as it turns out today is perfect for it, too.
We know the battle ahead will be long,
but always remember
that no matter what obstacles stand in our way,
nothing can withstand the power
of millions of voices calling for change...

We've been warned against
offering the people of this nation false hope.
But in the unlikely story that is America,
there has never been anything false
about hope.

For when we have faced down impossible odds;
when we've been told that we're not ready,
or that we shouldn't try,
or that we can't,
generations of Americans have responded
with a simple creed
that sums up the spirit of a people.
Yes we can.

It was a creed written into the founding documents
that declared the destiny of a nation.
Yes we can.

It was whispered by slaves and abolitionists
as they blazed a trail toward freedom
through the darkest of nights.
Yes we can.

It was sung by immigrants
as they struck out from distant shores
and pioneers who pushed westward
against an unforgiving wilderness.
Yes we can.

It was the call of workers who organized;
women who reached for the ballot;
a President who chose the moon as our new frontier;
and a King who took us to the mountaintop
and pointed the way to the Promised Land.

Yes we can to justice and equality.
Yes we can to opportunity and prosperity.
Yes we can heal this nation.
Yes we can repair this world.
Yes we can....

And so we will remember
that there is something happening in America;
that we are not as divided as our politics suggests;
that we are one people;
we are one nation;
and together, we will begin the next great chapter
in America's story with three words
that will ring from coast to coast;
from sea to shining sea —
Yes. We. Can.
The amazing music video interpretation is
here
, and Poetry Friday is hosted by
Under the Covers
.